View
all Pirates Cove photos (16)
<
photos from Samar (24)
<
photos from Philippines (76)
<
Photo gallery home

Upload new photo for Pirates Cove | for another surf break

Pirates Cove Surf Photo: 'Backyard Pirates Cove nov to march. n to ne usually at this time.' by pirates cove beach and surf resort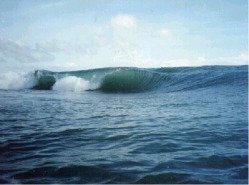 Backyard Pirates Cove nov to march. n to ne usually at this time.
Philippines | Pirates Cove
Average rating:

3.0

(use stars to vote)
high tide front yard or back yard how ever u look at it.head and a half. n and ne winds blow nov to marchish. winter swells are lumpy but fun. winds are good. maybe.