View
all Los Patos photos (85)
|
photos from Dominican-Republic - South Coast (125)
|
photos from Dominican Republic (182)
|
Photo gallery home
Upload new photo for Los Patos | for another surf break
Los Patos Surf Photo: 'los pato' by Jan Ph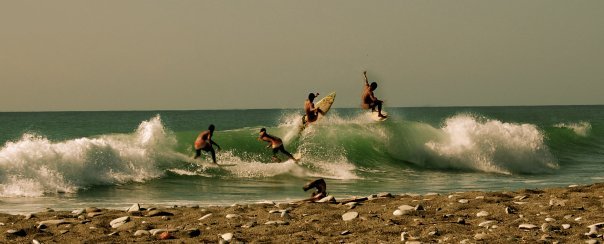 los pato
Dominican Republic | Los Patos
Average rating:

4.5

(use stars to vote)
Playa Los Patos Nizao Secuencia Front Side air Surfer: Jan Philippe (El Gomos) fotografía: Elizabeth Mena Manipulación Fotográfica: Mauricio Bartolo NIKON D40, 55 mm 1/400 Seg. f10.0 ISO200
Recent comments
2011-08-06
Diego
2011-04-28
Mario De La Maza
El Gomosaurio representado!!! Nice!!!!!! =)
2011-01-27
Armando Reid
Es correcto Rafa PATO es por PAITO y TOMAS sus descubridores Ademas en Los patos no hay una izquierda tan chula como en PATO Beach
2011-01-24
Salvador Minier
Balbaro Jan! Orgullo Dominicano Paai!!
2011-01-10
Rafael Ferreras
Excelente performance de Jan y muy cool el trabajo fotográfico, lo que no es correcto es el nombre de la playa! Ese "spot" se llama Pato Beach! Los Patos es en Barahona...
The Pacific Tsunami Warning Center has stated that a magnitude 8.2 Earthquake beneath the Sea of Okhosk did not generate a destructive Tsunami. However, we suggest that local interests also listen for statements from the Japan Meteorological Agency, located much closer to the source.