View
all Bay of Plenty photos (2)
<
photos from Durban/KwaZulu-Natal South Coast (53)
<
photos from South Africa (492)
<
Photo gallery home

Upload new photo for Bay of Plenty | for another surf break

Bay of Plenty Surf Photo: 'The Bay firing: Winter swell circa late 1970's' by Patrick Browning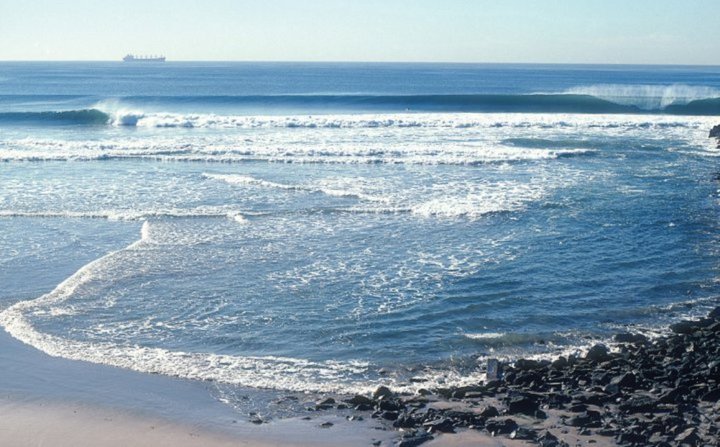 The Bay firing: Winter swell circa late 1970's
South Africa | Bay of Plenty
Average rating:

4.9

(use stars to vote)
A typical offshore Winter's day at the Bay of Plenty, in Durban, South Africa. This type of wave (size, shape, hue) was typical of the 1970's and 1980's (the period I surfed at the Bay) prior to the creation of the "new piers."
Recent comments
2012-05-13
Bevis Parsons
2012-04-16
Rory ( Rudy) Phoenix
This pic captures it all. The groin dumping sand at the take off. A pounding paddle out. It was actually an easy wave once you'd made the drop. I was cutting school in May/June 67, 68 with Bevis Parsons and had days like this all to ourselves. The short board had just arrived from OZ Shaun was about 13. I came back from Europe in 74 and couldn't believe his barrels. The new era had begun.
2011-06-28
Kevin Todd
I often think back to this view of the Bay of Plenty's classic line-up and it brings back so many magic moments in my life. I left South Africa in 1976 and was lucky enough to not have to watch the destruction of this wave. For those of us who grew up surfing at the Bay, this is the way we remember it! and it will always be a big part of who we are. A big howzit! to any of my old Bay of Plenty mates. I am still living in the USA and surfing hard. Call me if the Bay starts to break again.
2011-06-01
Paddy Browning
It seems, to some people, uninformed in part, and the other part, just plain cynical, that Old Durbanites are soaked so deeply in salt water and tropical breezes, that they seldom get off the couch to espy what goes on, up and over in the rest of the world. Jonathan "he of dazzling wit and equally bedazzling crown" Smith (older brother of that aging rock star Francis the younger (who, if truth be your stipend, was a somewhat poor excuse of a surfer when compared to his brother; riding his favourite purple Boogie board probably had something to do with it) gives the lie to this falsehood. Jonathan, how did you discover that plagiarised copyrighted stunning photo of that stunning day back in the day (if you zoom in close enough, you'll see my trademark "paddle for the ships, here comes a wave" technique on display, with you in tow, 50 metres adrift, about to pulverised by another Bay of Plenty beauty)? And thanks for reminding me about that ever-present babe puller, my ever-present comb. I'm sure if I take the time, and dig into my ancient board bag, I'll find it still attached by the Velcro strap on the board leash – ever-ready for use after a classic bottom turn and power re-entry. Now it's your turn to submit "a playback from way back". One of Jonathan Smith & Coffee (RIP), Bay of Plenty locals, with their trademark golden tans, and with half of Addington Hospital's nurses crowded around their shapely sticks!
2011-05-24
Jonathan Smith
Wow!!! that picture brings back amazing memories. Sadly New Pier is a poor cousin by comparison to the awesome Bay of Plenty. The death of the Bay marked the end of an incredible era of Shaun Tomson, Mike Tomson, Gavin Rudolph, Mark Price, Paul Naude, Mike Ginsberg,Chris Knutsen, Ringo Mentasti, Dave Hansen, Peter and Tommy Lawson, Mike and John Burness, Raymond Robertson, Kevin Todd, Anthony Brodowicz and many many more whose names I can't remember. The international events held at The Bay were considered the best in the world in terms of organisation and professionalism. It was indeed a time to remember. And Paddy Browning was there, never without his hair brush!!!!